Now, it has become April! What do you make an association of ideas in April. In my case, definitely, that is the event of 1st in April;
April Fools Day

.
As you may know, I love periodic seasonal events, especially, festivals. At that days, I can be a
stupid
and
crazy
man
, which is never seen normally.
In spite of my bitter experience, I told a lie to somebody as I do every year. Usually, I'm always the side of being lied to by, so I get
addicted
of their face when they find that they are lied to by me

.
Yesterday, an interesting story was posted on a website in Holland. It is too hard


to explain in English so that I post the article in Japanese.
オランダ閣僚に労働時間制限
先週の金曜日、社会省のドナー大臣は、閣僚の多くが夜中に仕事をしていることに対し、労働局からの罰金が課せられる可能性が高いと述べた。
このため閣僚および次官に向け、4月1日から「働く時間」と「休む時間」を政府が規定すると提案したと、全国紙テレグラーフ紙に語った。ドナー大臣の提案した規定は、最高で1週間に7日、1日に24時間働いてもいい。また、国会での討論中に「休む時間」をとっていいというもの。

実はこれは、大臣のエープルフールのジョークであったことが後に判明したが、この規定を本気にした閣僚が何人かいたという。
Notice: quoted from "portfolio".

If it were in Japan, the minister would be
bashed
by medias, and would be
fired
. One of what I have learned during my stay in Holland is that we, Japanese people, should have
breadth of mind
in our life.
***********************************************
Today, for our building's complexes, we had
an opening ceremony
at ground floor, though they seem to be under construction.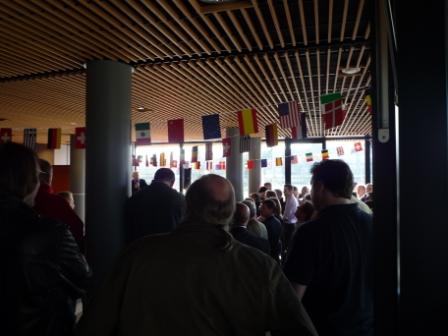 First, a managing director who is Dutch, spoke greetings
in Dutch
. Of course, I could not understand anything. Then, next to me, a woman, a master student from Italy, requested to me agreement of her complaint;
why does he speak in Dutch at the reception for international students?
We grooved to talk about
their mad mouth



, and became friendly

. You think that
you have capable of a foreign language if you can say one's tongue in it, don't you?
When we try to start to drink

, I asked her how to say "
Cheers
"
in Italy
. When I heard the pronunciation, I laughed at it. That means kinds of word that
can not be broadcasted through TV
in Japanese


; If you want to know, please search by yourself

. Though I have already known some words which has interesting effects for us, it rang my bell after a long interval.
However,
only
she, Italian, could have great interest of it; I was impressed. I taught it to her in
a roundabout way
, and then, she
promised
to me that when she has a party, she will show the meaning of it to her friends

. Therefore I can't stop it

続きを読む